About the Collection
Known for their legacy of creating fine Navajo and Pueblo jewelry, Sunwest Silver isn't just a jewelry company, they're a family. The artisans of Sunwest have been dedicated to their work and company for decades and they're paying it forward by teaching the next generation their craft, trade and traditions. They take pride in hand-tooling their pieces in the United States, creating designs with some of the most colorful and rare turquoise from one of the largest private collections in the world and several, now depleted mines.

American Artistry
Perfect for the value-driven customer, the American Artistry collection blends Southwestern flare with a modern twist.

Diné Spirit
The Navajo people, or Diné, have a rich history in creating beautifully ornate and artistic jewelry. Combining modern techniques with traditional Navajo silversmithing methods, the collection transcends beauty. Common to the Navajo, each piece is meticulously hand-crafted in the homes of skilled artisans, with the artist's name engraved on every item.

Museum
The Museum collection features specially curated, often limited quantity pieces from Ernie Montoya's private collection. With the finest southwestern gemstones by the top designers, it offers the customer a truly unique experience.

Sunwest Silver
For those who love family, fine jewelry & fun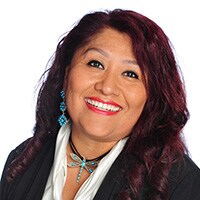 About the Guest
As a Native American raised by silversmiths, Valerie Calabaza's passion for Southwestern & Native American jewelry grew with her into adulthood, leading her to begin designing and creating jewelry of her own.

Valerie is proud to share her culture, traditions and passion for Native American jewelry as a part of the Sunwest Silver, Museum & American Artistry collections.

Brenda Baca has worked in the jewelry industry for 10 years, developing a special appreciation for Native American jewelry. She works first-hand with silversmiths featured in the Diné Spirit line.