About the Collection
Colors of Prism Diamonds is an ShopHQ-exclusive jewelry collection inspired by the multi-faceted prisms that separate white light into a spectrum of glorious colors. It features high-quality, fancy color diamonds and other gemstones designed to be enjoyed daily and for all occasions. Each stone color in the collection is named to reflect beautiful objects in nature. The sophisticated styles are manufactured by one of the most reputable and sought after color diamond sources in the industry. By going straight to the source, we are able to help bring you this exquisite jewelry at a very affordable price.
Live in color with Colors of Prism Diamonds.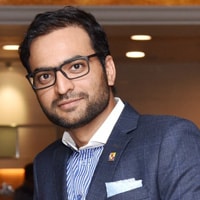 About the Guest
Sureshkumar R. Ghevariya, aka, Zulu, is Hong Kong-based jeweler & diamond expert best known as co-founder of "Prism Group," a manufacturer and supplier of jewelry & jewels.
In childhood, Zulu was fortunate to find both his passion for diamonds and gemstones. With experience in diamond manufacturing and trading in India, as well as export expertise in Hong Kong, New York and Europe - Zulu has the specialized gemology knowledge and training needed to make him a notable authority and welcomed consultant in his field.