About the Expert
As the creative director for MacKenzie-Childs, Rebecca Proctor leads the design and artistic mission of this vibrant home furnishings company. Working with a team of talented designers, she has been responsible for the most extensive and successful product launches in the company's history. Passionate about her work and an inexhaustible fountain of energy, she leads her creative team with boundless enthusiasm and an engaging and buoyant personality. Her extensive world travels, experience and lifelong fascination with the designer's process provide her with a unique perspective which she keeps focused on the redefinition of "Home." She has been with the company since 1991.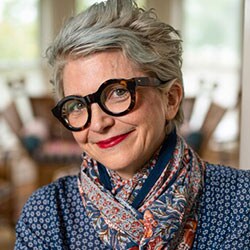 About the Collection
MacKenzie-Childs Glow Home Apothecary features distinctive home fragrance products designed to deepen the relationship between nature and the beauty of home. Each product celebrates a sophisticated palette of scents that infuse the home and enhance everyday life.
Our Olfactory senses stimulate the brain in ways more immediate and lasting than sight or sound. Fragrances engage our memories and imagination, connecting us more deeply to our past and our experiences. The scents available throughout the MacKenzie-Childs Glow Home Apothecary collection are reminiscent of the most rarified and magical places in nature—evoking the essence of splendid growth and reminding us of precious celebratory moments.