About the Collection
The emerginC signature range contains a wide variety of active, cutting-edge products and in-spa treatments for all skin concerns, from breakouts to anti-aging. They are constantly on the lookout for new technologies and new ways to deliver the visible results you deserve.
All emerginC products are paraben-free, free of synthetic colors and fragrances, and they try to source naturally and responsibly wherever possible. Be it cutting-edge peptides and plant stem cells, potent botanicals, antioxidants and natural fruit acids, or one of the most active, stable vitamin C serums out there, emerginC offers solutions for all your skin care needs.
pure. potent. cosmeceutical.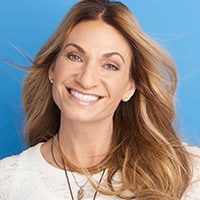 About the Guest:
To many, Heather Thomson is an adored reality star from the hit Bravo reality series, The Real Housewives of New York City, but what many don't know is that she is an Integrative Nutrition Health Coach and recently launched her beyond fresh organic nutrition brands, developed to educate and support people making positive and sustainable changes impactful to their health and well-being. The real Heather wears many hats, including inventor, entrepreneur, designer, philanthropist, speaker, athlete and avid adventurer. Heather says, "by utilizing over 25 years of hands on experience, building businesses, working with high-profile celebrities and being on RHONY, in contrast with my exciting endeavors as an adventurer and philanthropist – I take a unique approach to leadership, teamwork, trust, confidence, wellness, nutrition, and inspiration. As a health coach and founder of Beyond Fresh, Heather focuses on a holistic, science-based, easy-to-follow approach to nutrition that can help you lose weight and prevent disease.
Heathers recent adventures include: An off the grid expedition to Patagonia, a 16 day, 21,000' ascent in Nepal's Himalayas and the summiting of Mt. Kilimanjaro in Africa.
As a wellness presenter, Heather has delivered keynotes for Fortune 500 companies, joined various panel discussions as an expert on news channels from CNN to MSNBC, as well as holding health and wellness retreats with partners such as, Miraval Spa and Resort, Canyon Ranch, and Hilton Head Health.