About the Collection
Embrace the authentic sophistication of Milan jewelry with VOGA Collection Italian Jewelry. Featuring big, bold styles from the capital of Italian design, each exclusive piece is made at a price that makes them perfect for any occasion. It's all possible because of their innovative, modern take on the traditional electroform process. Bring home dramatic 18 karat Italian jewelry that's as distinct as you with VOGA Collection Italian Jewelry.
VOGA Collection Italian Jewelry
Embrace sophistication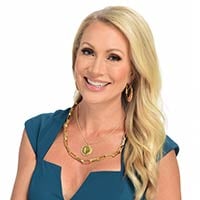 About the Guest
For nearly two decades, Wendi Russo has been shopping alongside you and sharing her jewelry expertise. With certifications as a Colored Stone and Diamond Grader as well as Jewelry Professional with the Gemological Institute of America, her dedication to the jewelry industry is unparalleled. Through her years of travel around Italy, she developed a passion and personal connection to the culture that she loves to share with others. Wendi brings you the latest Italian jewelry trends while also sharing the beautiful history of the country. She believes that every woman should feel confident and beautiful in the jewelry they wear.