About the Collection
Known the world over as the 'Painter of Light,' Thomas Kinkade is perhaps one of the most collected artist of the last century and beyond. His prolific art frequently featured imagery of faith, hope, family, home and the beauty of nature. He often travelled the world and used his talents to support humanitarian relief and make a difference in people's lives. Artwork for the 'everyman,' his pieces are often of landscapes, lighthouses, cabins, cottages, gardens and Christmas scenes.

Thomas Kinkade has been a licensed partner with Warner Bros since 2009 and his work has been commissioned for DC Comics, Looney Toons and The Wizard of Oz. He also worked with the Walt Disney Company since 2005 and was asked to paint Sleeping Beauty's castle in Disneyland. With almost 40 Disney images to his credit, he accounts for a majority of licensed art sales. The Kinkade Foundation is dedicated to supporting the arts.

Thomas Kinkade art work is handcrafted in the USA using high quality materials.

Thomas Kinkade Studios
Painter of Light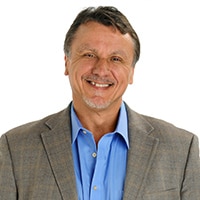 About the Guest
Since 1995, Dr. Patrick Kinkade has been an integral part of the Thomas Kinkade Company. He currently serves as its Chief Creative Officer and the Director of the Thomas Kinkade Studios. He has lent his expertise in many areas of company concern including product design, media and retail development, internet development and licensing. Patrick also previously owned and operated the largest chain of independent Thomas Kinkade galleries in the United States. His personal passions are writing, travel and children's books (of which he has published four - all under the Thomas Kinkade Company brand). One of the most popular books was co-authored with his brother, the famed Painter of Light.

Most recently, Pat serves as a Thomas Kinkade Company spokesperson, working with TKC Galleries and their collectors in the very popular Heritage Tour where he acts as an ambassador for his brother's message of hope and inspiration through art.