About the Collection
Slip your feet into European style and comfort with Sanita Footwear - a heritage brand with a centuries-old tradition of offering high-quality footwear rich with genuine Danish design. Known as "the original Danish clog," Sanita began in 1907 when its founder, Christian Meldgaard, created the first pair of Sanita hand-carved wooden clogs. Shortly after opening his first shop, Christian set out on his bicycle to share his dream and transform Sanita into what it has become today. More than 100 years later, the brand still handmakes every style with the same tradition, craftsmanship and passion of its founder.
The ultimate in fit and functionality, Sanita is made from the highest quality Italian leather and textile uppers to create comfy contour for the foot and a durability that is unparalleled. Each clog's anatomically-shaped foot bed is designed to be flexible and reduce stress on the lower back and legs, helping your feet and body feel relaxed all day. Adding a touch of fashion to the traditional clog, Sanita comes in a variety of classic silhouettes with fun, trendy and colorful styles for a look that's as unique as the individual who wears them.
Sanita is water-resistant and easy-to-clean, making it perfect for on the go gals. Recognized the world over as high-quality footwear, these legacy Danish clogs, shoes and boots are now made available to you. Experience European style and comfort with Sanita.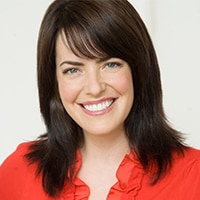 About the Guest
With more than 25 years experience in entertainment and modeling, Becky Wright has worked alongside some of the best stylists in the business. Gaining valuable knowledge and a unique understanding of the shoe and fashion business during this time, she's since adopted the philosophy that "personal style transcends trends."

A busy mom of two active teenage boys, Becky is our resident expert at seeking out comfortable, yet fashionable footwear that works as hard as she does.