About the Collection
Quintessentially English, Royal Albert bone china and collectibles offers long-standing elegance with traditional touches. Their popular Old Country Roses pattern, featuring soft English tea roses and delicate ribbons, is one of the most popular series of dinnerware in the world.

A division of Royal Doulton, the brand's pedigree dates back to 1896 before it became popular among collectors for its romantic Victorian styling. True to its brand heritage, craftsmanship and quality remain paramount within the collection.

Royal Albert
Quintessentially English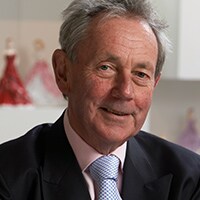 About the Guest
Perfectly suited for a position in his family's business, Michael Doulton passionately presents each piece from this world-renowned brand. As the great-great-grandson of the company's founder, he has worked for Royal Albert for the past 30 years and has an extensive knowledge of the product. Select items in the collection are signed by him.