About the Collection
Considered a visionary, MacKenzie-Childs designs then handcrafts traditional home décor with a fun, quirky twist. From plates and planters, to teapots, tables and tureens, each MacKenzie-Childs piece is lovingly created by their team of fiercely talented artisans who love to delight and inspire customers with an unexpected take on the classics. Offering an energetic, imaginative, and happy assortment of core kitchen and entertaining accents, as well as a decorative item or two, you'll be sure to find a one-of-a-kind you simply can't live without.

Mackenzie Childs
Classically quirky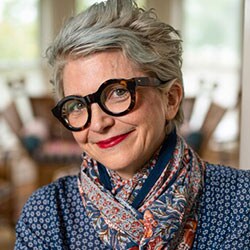 About the Expert
As the creative director for MacKenzie-Childs, Rebecca Proctor leads the design and artistic mission of this vibrant home furnishings company. Working with a team of talented designers, she has been responsible for the most extensive and successful product launches in the company's history. Passionate about her work and an inexhaustible fountain of energy, she leads her creative team with boundless enthusiasm and an engaging and buoyant personality. Her extensive world travels, experience and lifelong fascination with the designer's process provide her with a unique perspective which she keeps focused on the redefinition of "Home." She has been with the company since 1991.