About the Collection
Your bedroom is your own personal sanctuary. It's a private place where you rest, renew, refresh and revitalize. Great in Bed Magnetic Energy Body Fragrances are formulated from magnetized water and good-for-your-skin ingredients to reinvigorate your mind & body with patented self-renewing scent spheres™ that can be reactivated up to 8 hours after application. Whether you're sound asleep or wide awake, these revolutionary formulas will have you smelling great & feeling refreshed while leaving your skin soft, supple and ready for anything.

Great in Bed
Create your GREAT & be Great in Bed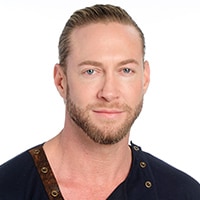 About the Guest
Spencer Barnes' career began in his hometown of Provo, Utah. He grew up immersed in music, drawing, painting and photography. He also acted in over 100 film, television and commercial productions. After attending film school, Spencer moved to Los Angeles in 2003 where he carved out his specialty as a skilled and celebrated makeup artist to the stars.

As a sought-after expert, he's held several spokesperson roles and brand ambassadorships with leading cosmetic companies. Spencer's most recent collaboration is with Randi Shinder in bringing House of Greatness to ShopHQ. His goal is to empower women so they can create their own great.