About the Collection
Infuse your wardrobe with personality and express your individual style with Glitterscape®. Glitterscape® offers dazzling fashions designed to give your wardrobe a refreshing wake-up call.
With a full line of day-to-night fashions including knits, wovens, sweaters and denim, Glitterscape is all about looking fabulous and getting noticed. Delightful details, fanciful materials, rhinestones, sequins and beads instantly update each classic silhouette with modern style that lets your personality shine.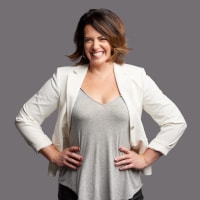 About the Guest
With more than 25 years of experience in the entertainment and modeling industries, Becky Wright has worked alongside some of the best stylists in the business. Through this experience, she's gained a unique understanding of the fashion industry and helped her to develop the philosophy that "personal style transcends the trends." As a busy mom of two active teenage boys, Becky loves having a wardrobe that works as hard as she does.