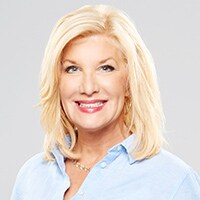 About the Home Expert
Ann Sutmar's career has always been focused on creating the best experiences for customers. With over 25 years in the business, she's established her own company to deliver innovative sales, service and product training programs to a variety of retail and television clients. Ann also enjoyed representing these clients as their commercial and infomercial talent.

Ann's sales, training, and on-air experience eventually led her to a career in digital commerce as an on-air host. Since 2003, she has been helping customers shop for mattresses and bedding products.

Passionate about helping customers create comfortable and beautiful homes, and as the brand ambassador for Cozelle®, Ann will help transform your home with a unique decorator's touch.