About the Collection
Express your one-of-a-kind style with MULCO Watches ‒ innovative timepieces rich with Swiss heritage, prestige and impeccable quality. Founded in Switzerland in 1958, MULCO creates timepieces for both men and women that are fashionable with playful vibrant colors, original textures, solid materials and Swiss movements. Led by a group of fashion designers, watch technicians and specialists, MULCO is committed to continuing the legacy established decades ago by constantly developing innovative and fashion-forward collections, creating the best timepiece you can wear.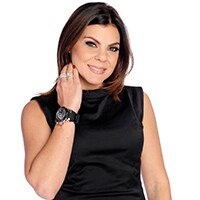 About the Guest
Nicole Minionis, Marketing Director for MULCO, has developed the marketing campaigns for the brand and has strengthened its message across various communication channels. Her marketing campaigns focus on the brand's DNA of high fashion designs with a superior Swiss quality. She is extremely passionate about MULCO's innovative assortment and the brand's ability to transform timepieces into stunning works of art.