About the Collection
Accessorize with fashion-driven timepieces from Jivago-a collection of fine watches from world-famous fragrance house, Ilana Jivago. Known for its luxurious designer scents, Jivago carries on the brand's legacy of opulence, style and elegance through their timepieces.
Headquartered in Beverly Hills, Jivago embodies the glitz, glamour and high fashion of their home city. Fashionable details, such as mother of pearl dials, crystal-studded bezels and animal prints make this collection stand apart. With designs specially tailored for men and women, Jivago Timepieces are perfect for anyone with a refined sense of style.
Every design features Swiss parts movements; you can feel confident in the craftsmanship and accuracy of each timepiece. Elevate your style with the prestige and quality of fashionable accessories from Jivago.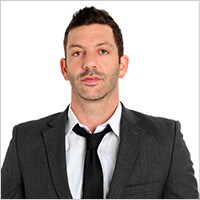 About the Guest
Born in 1985, Yaniv Gabav grew up in the sunshine and beauty of Hollywood, where fine jewelry and watches are commonplace. As Jivago's Executive Director of Design, Yaniv has played in instrumental role in developing the brand's collection of fashionable timepieces.