About the Collection
Welcome to the world of Sohna 22 Karat Gold Jewelry. Sohna symbolizes the finest Design and Craftmanship from India. Each creation has a story that is inspired by Indian History and Culture. Historically, only Royal Families of India would wear such extravagance crafted in 22K gold, now Sohna™ brings the same heritage at your doorsteps. It is the high quality finish and styling that will make Sohna™ your friend for lifetime and heirloom jewelry for generations to come.
The craftsmen behind Sohna™ jewelry were carefully selected to curate the restored art of Indian jewelry with hint of western ideas. These are the people who have generations in jewelry making and have the in-depth knowledge of crafting exquisite pieces.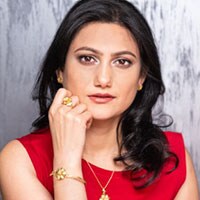 About the Guest
Swati is a second-generation jeweler born in jewelry capital of India; Jaipur. She was always drawn to the charisma of jewelry making, therefore, after finishing her MBA, Swati joined the jewelry industry and has been creating exclusive pieces for the last 15 years. Her jewelry designs are inspired by various kinds of handicrafts and historical elements focusing broadly on Indian heritage and culture.