About the Collection
Welcome to the Eva Marcille Home Collection, a contemporary line for those who want to add a touch of glamour to their space. Top model, actress and reality television star Eva Marcille launched her eponymous home collection with an array of bedding sets, quilts, throw blankets and throw pillows. This line embodies Eva's signature fashion-forward style. Imagine vibrant, bold colors and textured fabrics that provide a luxury element while remaining affordable. Soft cotton blends and plush throws ensure quality and comfort. "Every home should be a sanctuary and a place of refuge. The décor should reflect that mood, so why not make that space glamorous?" says Eva. With her collection of accessible luxury, you'll be able to easily build a photo-worthy living space.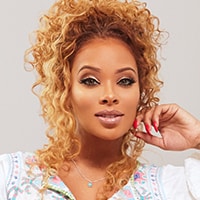 About the Guest
Eva Marcille is a fashion model, actress, television host and entrepreneur. She broke onto the scene and into pop culture's heart winning the third season of the popular reality television series and interactive modeling competition. Modeling wasn't enough for the Los Angeles-born star, so she crossed over into the world of television, film and music videos. Now, she's bringing it home with her eponymous collection of bedding, blankets, quilts and throw pillows.