About the Collection
Stay Country by Dustin Lynch is your backstage pass to own the style of a country rock star. Conceptualized by famed singer-songwriter Dustin Lynch, Stay Country embodies the country chic lifestyle with rugged elements like denim, faux leather, distressing and stud details for a perfect blend of contemporary country rock and hometown pride. The collection features women's and unisex fashion including t-shirts, jackets and denim elements so anyone can be inspired to "Stay Country."

Stay Country by Dustin Lynch
Country rock style from a country rock star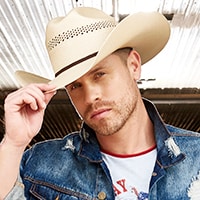 About the Guest
Broken Bow Records artist Dustin Lynch occupies a unique place in country music. Thanks to his classic sensibilities he's been heralded as the heir to George Strait's throne, yet with one listen to his hit single "Where It's At," it's obvious the young Tennessee native knows how to combine his traditional influences with an edgy intensity that places him at the vanguard of today's contemporary country scene.