About the Collection
Derived from "Firenze," the Italian name for the city of Florence, and "bella," meaning "beautiful," Firenze Bella Handbags encapsulates the beauty and quality of Italian-inspired craftsmanship at an affordable price.

Each piece offers a vintage look and feel with buttery embossed leather, antique-style hardware and intricate detailing like tooling, whip-stitching and stud accents. Form and function blend together as seamlessly as each piece blends with your wardrobe, with designs that are built to last.

Firenze Bella
Lust for haute Italian-inspired designs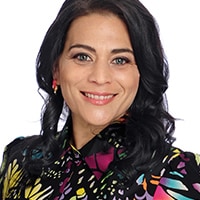 About the Guest
Tiffany Castellano honed her knowledge of the handbag industry as a buyer. After that, she spent eight years under the tutelage of Sharif Elfouly of Sharif Designs as Director of Business Development. Today, she's seen working tirelessly to help design the Firenze Bella collection for ShopHQ.