About the Collection
From the wardrobe of one of country music's biggest stars comes Fair Child by Karen Fairchild - an exclusive fashion collection inspired and designed by the 'Little Big Town' star. Reflecting her life-long passion for design, Karen showcases a unique fusion of sexy, bold pieces with vintage Nashville elements woven throughout each garment. Fair Child features both statement pieces and classically designed staples that can be easily combined to create endless looks. Striking details such as studs, embellishments, embroidery, and sequin along with a variety of textures and silhouettes create perfect design harmony in one seamless collection.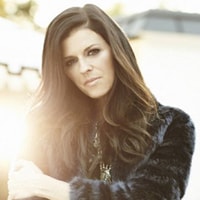 About the Guest
Karen Fairchild and the band burst onto the music scene 16 years ago and has become one of country music's most iconic foursomes. The multi-platinum-selling band is currently the reigning ACM and CMA (3x) Vocal Group of the Year, and are recent inductees into the famed Grand Ole Opry. Little Big Town is responsible for some of the format's biggest hits including "Day Drinking," "Pontoon," "Little White Church," "Boondocks" and their most recent record-breaking smash, "Girl Crush."
Forever a fan of fashion, she fell for design early, mixing and matching pieces and patterns to create unique looks, including her own prom dress. Personally involved in every step of the design process, you can be assured Karen's attention to detail will be passed on to every garment created in her name.