About the Collection
Slip into trend-right style and luxurious warmth with Australian sheepskin footwear and cold weather fashion accessories from EMU. For more than 15 years, EMU has passionately produced the world's finest premium sheepskin and Merino wool products.

Proudly based in Australia, EMU is headquartered in Geelong, the heart of the world's finest quality wool growing district. Featuring quality materials, flawless craftsmanship and trend-right styling, EMU products are built to last.

Each boot, slipper, glove, hat and earmuff is crafted using 100% premium Australian sheepskin. Durable and water resistant, EMU boots use double-faced sheepskin to keep you warm and dry throughout the coldest seasons. Additionally, EMU footwear features replaceable, anatomically correct sheepskin-lined insoles and tough rubber outsoles, which offer supreme and lasting comfort.

With a variety of boot heights, slipper styles and leather colors, EMU will keep you comfortable and stylish all season long.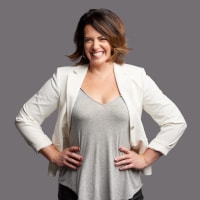 About the Guest
With more than 25 years of experience in the entertainment and modeling industries, Becky Wright has worked alongside some of the best stylists in the business. Her unique fashion philosophy is that "personal style transcends the trends." As a busy mom of two active teenage boys, Becky searched for comfortable, stylish footwear that worked as hard as she did. Through teaming up with EMU Australia, she found the perfect blend of fashion, durability and ease.