About the Expert
Dr. Sheldon Joel Sevinor, is a retired American Plastic and reconstructive Surgeon. Dr. Sevinor specializes in innovative reconstructive surgery and aesthetic facial and body enhancement procedures.

Dr. Sevinor is Certified by the American Board of Cosmetic Surgery, Dr. Sevinor served a four-year term on the National Board of Medical Examiners. He is a fellow of the American Academy of Cosmetic Surgery and the Massachusetts Society of Plastic Surgery, the American Society of Liposuction Surgery and an honorary member of the European Academy of Cosmetic Surgery.

Since 2016, when he retired from his surgical practice, he has devoted more time to further research and development of additional skincare products to enhance his brand based on science and up to the minute innovative technology.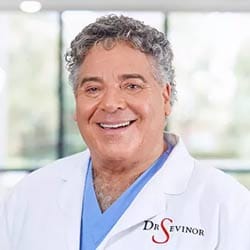 About The Collection
Based on Dr. Sevinor's 40 years of experience performing plastic surgery working under the skin, he developed his proprietary line of Dr. Sevinor Skincare Solutions products. This skincare brand is a collection of quick and easy beauty treatments for women and men to use in the comfort of their own home to help their skin look younger. Dr. Sevinor's passion is to improve overall skin health and achieve more radiant skin for his clients so they can feel more confident.