About the Collection
Treat your skin to all-natural cosmetics, skincare and beauty products from 100% PURE.
Founded in a Napa, California farmhouse in 2005, 100% PURE is committed to providing feel-good color cosmetics, skincare and bath & body products made with organic and other natural ingredients.

100% PURE is truly health food for your skin. Every product is 100% natural, 100% cruelty-free and 100% free from artificial colors, unnatural fragrances and synthetic chemical preservatives. In addition, 100% PURE's patented color cosmetic formulas are pigmented and dyed with all-natural, antioxidant and vitamin-packed fruit, plant and vegetable pigments.
Discover beauty as pure as it is powerful with 100% PURE.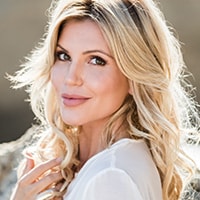 About the Guest

International celebrity makeup artist and beauty expert, Kate Watson has more than a decade of experience in the industry. Having worked on editorial shoots, television spots, and red carpet events, she has partnered with top cosmetic companies helping to develop some of today's top selling products.

Kate continues to inspire women to look and feel their very best and is also a staunch advocate for healthy and environmentally responsible products. She's honored to partner with 100% PURE, a professional cosmetic line that is truly better to wear than not to wear. Kate believes that not only do these products truly transform your look, they perform professionally and stand up to to competing industry products that aren't nearly as conscious as 100% PURE.