About the Collection
Step out onto the most famous avenues of Italy with Viale18K® Italian Gold, a rich collection of 18K gold jewelry designed and forged in the heart of Italy. The sophisticated pieces of this exclusive collection are for those who desire the prestige that comes with decadent and luxurious 18K gold.
From the elegance and luxury of the famous artisans of Vicenza, the Viale18K® Italian Gold collection is inspired by the most luxurious avenues and exclusive shops of Italy. 18K gold is considered the expectation for jewelry in Italy. Each fine piece showcases the best that Italy has to offer with masterfully crafted links and weaves and intensive gemstones for an elegant look you can wear every day.
Join Wendi Russo as she reveals the stories behind this immaculate collection. Adorn yourself in true gold artistry, a piece to cherish and treasure for a lifetime. Nothing radiates like Italian gold, and now it can be yours with Viale18K® Italian Gold jewelry.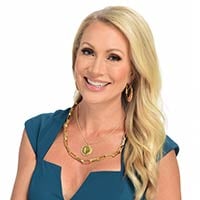 About the Guest
For nearly two decades, Wendi Russo has been shopping alongside you and sharing her jewelry expertise. With certifications as a Colored Stone and Diamond Grader as well as Jewelry Professional with the Gemological Institute of America, her dedication to the jewelry industry is unparalleled. Through her years of travel around Italy, she developed a passion and personal connection to the culture that she loves to share with others. Wendi brings you the latest Italian jewelry trends while also sharing the beautiful history of the country. She believes that every woman should feel confident and beautiful in the jewelry they wear.