About the Collection
Transport yourself to historic Tuscany with Toscana Italiana jewelry. This collection combines the beauty of Italian craftsmanship with traditional style. Set in platinum or 18K gold over bronze, each piece tells its own story with intricate metalwork and genuine gemstones at an affordable price. From beautiful hammered finishes to filigree detailed silhouettes, Toscana Italiana highlights boldness, mystery, passion and heritage in an assortment that's only available at ShopHQ.

Toscana Italiana
Speak with an Italian accent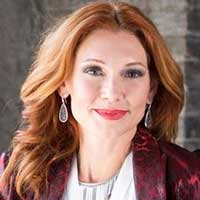 About the Guest
Albany Irvin is a familiar face in the digital commerce world with years of experience selling products on-camera. She has a passion for bringing high style to everyone at an affordable price and specializes in bringing trend-right looks to the modern woman. Inspired by her travels to Italy and years of promoting Italian-made jewelry, Albany truly appreciates Italian craftsmanship and loves to share her experience with her viewers.