About the Collection
Own a piece of English artistry with Royal Doulton. Vintage-inspired and nearly two centuries old, the brand is known for crafting beautiful and elegant pieces for the most discerning collectors.

With a pedigree dating back to 1815, Royal Doulton began as a stoneware company in Lambeth, London. Over the following centuries, the company expanded its portfolio with artistic pottery, commemorative tableware and, most notably, figurines. Today, the brand continues to delight its followers with their collection of heirloom quality collectibles.

Crafted and painted by hand, each piece is an unmatchable work of art. From whimsical, personified animals to regal figurines of the royal family, these unique pieces will give your home instant personality.

Royal Doulton
Own a piece of English artistry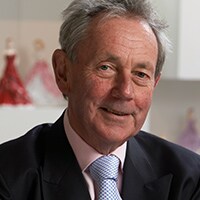 About the Guest
Perfectly suited for a position in his family's business, Michael Doulton passionately presents each piece from this world-renowned brand. As the great-great-grandson of the company's founder, he has worked for Royal Doulton for the past 30 years and has an extensive knowledge of the product.