About the Collection
Made for real life, OSO Casuals offers trend-proof clothing made from quality fabrics, including cotton and denim, in a wide range of styles. It's a fresh take on everyday basics that you can use to refresh your existing wardrobe or use to build a new look from the ground up. Featuring classic silhouettes that flatter your curves, each piece effortlessly transitions from setting to setting so you can feel confident all day long.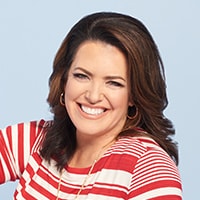 About the Expert
With more than 30 years of experience in the entertainment and modeling industries, Becky Wright has worked alongside and learned from the industry's best. Becky likes to say, "personal style transcends the trends." And to that end, she works to ensure every OSO piece is made from the best fabrics and features a classic design that fits perfectly.
As a busy mom and with over 4,500 hours of on-air experience, Becky has developed a reputation for keeping it real by keeping her viewers up to date on the latest trends. With an eye for fashion that complements every body type, she has become a trusted source for clothing that works just as hard the women who wear it.