About the Collection
All the world's a stage and nobody understands this better than haute couture trained designer Guillaume Poupart. This collection elevates your wardrobe with bold details, sophisticated prints and couture-inspired silhouettes that make any look take center stage! Guillaume uses his decades of experience in the fashion industry to create clothes that are as stunning to look at as they are comfortable to wear. His designs are European inspired for the modern woman who wants a combination of high style and practicality. With fabrics ranging from upscale brocade, lace and burn out velvet to ultra-soft knits and wrinkle friendly stretch crepe, Guillaume offers a versatile assortment of tops, jackets, dresses and bottoms that can seamlessly be worn from day to night. Enhance your stage presence without sacrificing comfort with the expertise of Guillaume. 

Guillaume 
Take center stage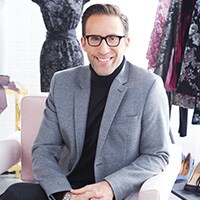 About the Guest
Guillaume Poupart is a self-made apparel designer with an eye for quality. His background includes being a creative director and chief marketing officer for two major fashion houses, and he has been published in several popular magazines. After working with some of the world's top apparel brands, he devoted his time to developing his own garment line. Guillaume has more  than 20 years of experience in the fashion industry and remains highly involved with his collections at every step.