About the Collection
Step into the comfort and style of Gravity Defyer – footwear created with shock absorbing sole technology to get you back on your feet. Founded in 2004, Gravity Defyer has spent the past decade researching and refining their patented "VersoShock" outsole, a revolutionary outsole design using lightweight synthetic technology to absorb shock. In addition, Gravity Defyer offers other unique design elements to help you enjoy the benefits of being active and comfortable, including wider widths, soft inner linings and removable anatomic foot beds. Gravity Defyer is perfect for men and women and offers a mix of sandals, mary janes, and athletic styles with zippers and adjustable straps adding to the versatility and appeal of the collection. Treat your feet to the stylish, quality comfort of Gravity Defyer footwear.

Gravity Defyer
Treat your feet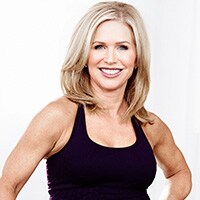 About the Guest
Chris Freytag is nationally recognized for her work in leading publications and television appearances. As a certified personal trainer, health coach and group fitness instructor, she has been dubbed 'America's Healthy Lifestyle Coach.' Chris is the author of seven books and dozens of fitness DVDs. She is passionate about fitness and living healthfully.