About the Collection
Elevate your style with Gramercy 22, a collection of timeless fashions available exclusively at EVINE. Inspired by the urban panache of Manhattan's historic Gramercy Park, Gramercy 22 exudes cosmopolitan sophistication in every stitch, silhouette and pattern. Perfect for the office, a dinner date, or an afternoon of urban exploration, the enduring designs of Gramercy 22 will complement and effortlessly expand on your existing wardrobe. Pairing perfectly with everything in your closet, the collection features a full array of timeless fashion essentials, including pants, jackets, tops and more. With a variety of seasonal solid colors, understated prints and contrasting color details, Gramercy 22 will immediately elevate your look for every occasion.

Gramercy 22
Elevate your style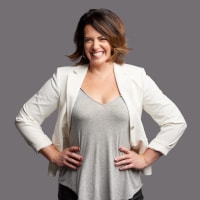 About the Guest
With more than 25 years experience in the entertainment and modeling industries, Becky Wright has worked alongside some of the best stylists in the business. Through this experience, she's gained a unique understanding of the fashion industry that helped her develop the philosophy that "personal style transcends the trends." As a busy mom of two active teenage boys, Becky searched for a wardrobe that worked as hard as she did.