About the Collection
Go for the bold with Betsey Johnson Jewelry - fashion jewelry and watches from one of the most famous designers in the industry.
Known for her exuberant, embellished and over the top style, Betsey Johnson has been rocking the fashion industry with her unique and original designs since the 1960's. With Betsey's unstoppable success in the industry, she began incorporating fashion jewelry and watches into her brand in 2006.
With her iconic style inspired by her fun and playful personality, Betsey's fashion jewelry and watch collections are truly one-of-a-kind. Highly detailed, whimsical and colorful, her enthusiasm, creativity and boundless talent come through in each head-turning piece she creates.
Step into the spotlight with the bodacious and bold designs of Betsey Johnson.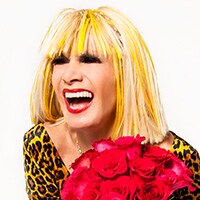 About the Guest
Betsey was born in Connecticut and spent her childhood in dance classes. Her aspirations to be a dancer and her love for costumes laid the foundation for Betsey's creativity and inspiration, which is evident in her designs today.
In 1964, Betsey entered the New York fashion scene by winning Mademoiselle magazine's "Guest Editor Contest." One year later, she landed the top designer position for Paraphernalia, a clothing boutique that, at the time, housed the hottest young London designers.
Betsey's trademark look began its foundation here - hippie-inspired, flowing fabrics, sexy silhouettes, whimsical detailing and most importantly, a fabulous fit. Betsey Johnson, both the woman and label, is constantly pushing the fashion envelope. As one journalist recently quoted, "If Betsey Johnson didn't exist, we would have to invent her, simply to remind ourselves that fashion can be fun." She's the original wild child and set to paint the town pink!